Aildilfitri 2004
Today is the last day of work before the Deepavali/Hari Raya holidays. Coincidently, today is also my last day of work according to my current contract terms. Not doing any single real productive work since morning. Really a bad idea for my performance review for at least a contract renewal, let alone a permanent position offer. But then again, can't do much work anyway in this jolly festive period and mood doesn't it? I will try my best to post during my holidays with my trusty old MMX 200Mhz pc. Not much, but it does the job.
Until then,
Selamat Hari Raya Aidilfitri, Maaf Zahir Dan Batin
to all of you readers out there (which i presumed about 5 of you).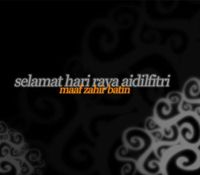 card designed by an_urb | © Ekad Malaysia 2003