This Station Is Non-Operational
At The Drive-In Retrospective Coming
news avaiable here from Pitchforkmedia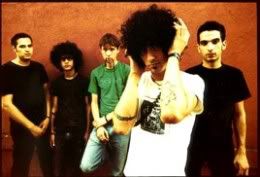 Zach Vowell reports:
Frances the Mute
, we all knew, was just too terse a title to be true. Five years after their At The Drive-In swan song,
Relationship of Command
, the
Mars Volta
's Omar Rodriguez-Lopez and Cedric Bixler along with
Sparta
's Jim Ward, Paul Hinojos, and Tony Hajjar will release a compilation entitled
This Station Is Non-Operational
on May 24.
Fearless Records
will issue this retrospective At the Drive-In product in the U.S., while NME.com has reported that V2 will release the comp overseas on June 6. According to Fearless Records' website, the former bandmates handpicked the selection, and included not only fan favorites but also BBC sessions, re-mixes and B-sides, and covers of both the Smiths and Pink Floyd. Two of the "greatest hits" are available for download off of Fearless' site.
But the fun doesn't stop there. The release will also include a DVD bonus disc full of music videos, nostalgic desktop wallpaper, and buddy icons. Twenty unreleased photographs will grace the booklet insert, but the real steal will be
Operations Manual
, ATDI's electronic press kit which was previously privy only to real journalists such as ourselves.
Here's the tracklist:
01 Fahrenheit
02 Picket Fence Cartel
03 Chanbara
04 Lopsided
05 Napolean Solo
06 Pickpocket
07 Metronome Arthritis
08 198d
09 One Armed Scissor
10 Enfilade
11 Non Zero Possibility
12 Incetardis
13 Doorman's Placebo
14 Autorelocator
15 Rascuache (Vaya Remix)
16 This Night Has Opened My Eyes (Smiths cover)
17 Inintiation (BBC session)
18 Take Up Thy Stethoscope and Walk (BBC session, Pink Floyd cover)
Videos
01 One Armed Scissor
02 Ivalid Litter Dept.
03 Metronome Arthritis
I say
: YAY! At The Drive-In is the shite! Cedric and Omar does the mother of all freaking-outs, period. I want one.
Pyan
, I know you are reading this. I WANT ONE.
Got some new playlists from exciting new bands that I would like to share with you guys, maybe in the next post.