Post-Raya
I am sorry that I lied. I didn't post anything during the holidays. Believe me, I tried. I guess I was caught up watching all those interesting Malay movies on TV. Kuliah Cinta, Hingga Hujung Nyawa, Mistik and others. Don't you just love our Malay movies? By the way, do yourself a favour and go watch the movie No Problem starring Opie Zami, Maya Karin, Danny X-Factor. That movie is 'the bomb'. The best Malay movie ever in my opinion. Any interesting Hari Raya stories and happenings? Raya was ok, as usual. The food was great. Lots of traveling here and there, near and far to friends and relatives that mostly that I didn't even know of. The highest point : ketupat and kuah kacang.
Looking forward to start training again with the Felcra hockey team. We just missed out and ran out of luck last season. A draw from the last game of last season would secure a semi final spot for us. But we lost 1-0 to Maxis. Got to train harder this season, if I make the cut that is. The new Puma turf shoe is tempting indeed.
These are some pictures from my colleagues' wedding some months back, Mat Yo and Is. Only just got the pictures. They are my classmates from Universiti Teknologi Malaysia. Congratulations to them.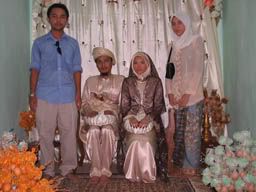 Mat Yo was once the stand-in vocalist for our jamming sessions a few years back at Kuantan. He was a very good Zack de La Rocha's ripp-off. All the rappings and shoutings with a twist of Kelantanese slang
Rina in kebaya : rocks!