Shaiful's Wedding - 12th Jun 2005 - Shah Alam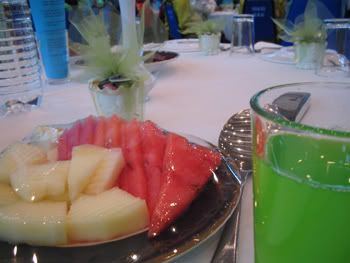 green drinks, yummy!
with Syed Zainol Khodki & Wife
Another wedding.
It is Shaiful's, a friend from the Felcra (now Enigma) hockey team
the whole team was there, with their sticks and all (not!)
pink shirt is in!
berbual dengan pakcik dan makcik satu meja.
the usual stuff, dari mana? kawan shaiful ke?
and later I found that they are my ex English teacher's parent from school
Sharifah Nor Azam or Sherry, as we all call, love and know her
she was my mentor for 3 years
she makes the best cheese cakes ever! :)
just to share some notable quotes from uncle,
which by the way is 74 years old (but still going strong),
not totally the exact words though
(note : read in Utara slang)
" u umur 24, uncle 74. lama tau nak 24 nak sampai 74.
kereta nak sampai 10 tahun pun susah.
sampai masa servis kena servis. jangan tekan minyak kuat-kuat2.
sama la macam badan. jaga kesihatan, jangan hisap rokok.
badan ni dia masuk 40 tahun mula la. brake suma tak makan... "
" kita hidup ni kena ada plan. step one nak ada degree.
2nd step carik kerja. 3rd step kahwin. 4th step beli kereta dan rumah.
5th step settle down and raise a family... "
" carik tanah, buat rumah. jauh-jauh sikit pun takpa.
tanah 40 ribu, rumah 60 ribu pun dah cukup.
ini beli rumah teres dekat 200 ribu, tapi sempit. nak bergerak pun tak boleh.
25 years ago uncle beli rumah kat Shah Alam ni, suma kawan-kawan dengan family
kata apa duduk sini. takda apa, pokok getah ja. sekarang tengok ..."
" kerja ni bukan main-main. kalau kita rasa kita tak boleh commit dan
berkhidmat pada company, baik kita resign. The most important things in work are
honesty, integrity and common sense. If you ask me again, I say
honesty, integrity and common sense. If you ask me again, I still say
honesty, integrity and common sense... "
Good company. Good food. Good conversation.