Welcoming back the kings
It's 12 days since the last post. When you just don't have the desire to blog, then you just don't have it. No point in forcing it.
Zaha
and
Adiman
blog almost every day. Heck, even they have something useful (more or less) to talk about. Just some updates on current status, I am now based at a government agency for these couple months doing development/programming works with 4 other colleagues. Struggling to wake up earlier than usual to catch the 7.23am train (before this it was the 8.08am train).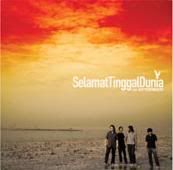 Finally bought
Selamat Tinggal Dunia
(STD) last Saturday at Victoria Music Kotaraya for a rather cheap price of RM33. Alternate cover from the previously proposed. It was actually already sold out on the 24th December (2nd day of release) so I have to wait for the next stock to arrive. Noticed The Times (alim and naza post-OAG band) debut album at the rack, but the curiosity in checking out the band is not that strong (and the fact that I am short on cash that day). Well, a good friend of mine said that the concept is more or less like traces of early brit pop bands. Interesting.
Now the review of STD. Actually I don't quite agree on the concept of review, especially on rating of an album. Everybody listens to all kinds of music, everybody has their own favourite bands/artists. Why bother reading the reviews and checking the ratings when you gonna listen to that Sum 41 or that Simple Plan albums anyway?
Anyway, back to STD : "Hidup mati muzik. Bangun tidur muzik. Cuba bernafas, ralat itu normal. Maafkanlah hamba. Hamba pun hamba wang pada zahirnya."
Rating : 10/10 (yes, I am a fan)
'Nuff said. See you this weekend.
Butterfingers : Selamat Tinggal Dunia Gig
When: January 8th, 3.00pm
Where: Hard Rock Cafe, Concorde Hotel, K.L.
Tickets: RM25 (inclusive of first soft drink)
"Apabila Emmett pulang ke Kanada nanti, Tuhan sahaja yang tahu bila lagi kami akan membuat persembahan sebagai Butterfingers semula", kata Loque. -quoted from
royalbutterfingers
Welcome back. Welcome back.